2018 NMDA Schooling Shows & Clinics







VOLUNTEER!

A great way to acquire volunteer hours for an NMDA Year-End Award or Education Fund "Mini-Grant", hang out with the dressage enthusiasts and have fun! If you have not volunteered before, we are happy to show you how. Contact any schooling show manager or clinic organizer on this page.




Date
Event/Location
Manager/Contact person
Judge
June 1-3
Jennifer Marchand Dressage Clinic
Albuquerque area
Adrienne Curtin 505-228-2197


June 1-3
Rachel Saavedra Clinic at Hell Canyon Farm, Santa Fe NM
Maureen Mestas 505.310.1050 or pferdfrau@gmail.com


June 16
NMDA Schooling Show
Goose Downs Farm, Galisteo, NM
Jeffray Ryding (690-9948) or Laura Kober (670-1164)
Judge 1: USEF "r" license - Wendy Wergeles
Judge 2: TBD
June 23-24
Jim Hicks Clinic
Corrales, NM

Steve Simmons 505-301-0917


July 14-15
Recognized show sponsored by Santa Fe Dressage Association at Hipico Santa Fe

Debbie Garris dgarris@horseshowsolutions.com


August 19
NMDA Schooling Show
Roy-El Farms, Española NM




October 12-14
Jeremy Steinberg Clinic at Hell Canyon Farm, Santa Fe NM
Maureen Mestas 505.310.1050 or pferdfrau@gmail.com


October 28
NMDA Schooling Show
Cherry Tree Farms, Albuquerque
DJ Collins
Michelle Baca




NMDA Schooling Show at
Goose Downs Farm
June 16, 2018
Goose Downs Farm offers two dressage rings and a warm up area with soft sand footing. The venue is surrounded by four mountain ranges with beautiful vistas of the Galisteo Basin. We will offer USDF tests, USEA eventing tests, and Western dressage tests. Limited stalling available For more information, please contact Jeffray Ryding (690-9948) or Laura Kober (670-1164).
Show address: 70 Goose Downs Rd, Lamy, NM 87540


Address for Entries:

Secretary, NMDA Schooling Show
64 Goose Downs Rd
Galisteo, NM 87540

Entries postmarked no later than June 9th

Judge 1: USEF "r" license- Wendy Wergeles
Judge 2: TBD


---
For a complete list of events, clinics, shows, etc,
go to our Calendar of Events.
Helmets are required while mounted at all NMDA shows and clinics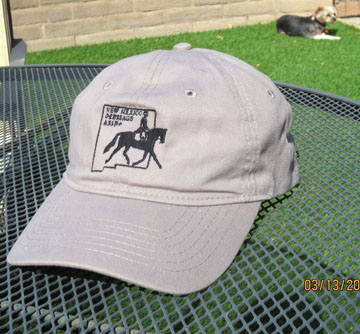 NMDA hats for sale $18.
Available at schooling shows & other NMDA events or contact John Collins, SKIPANDDCTF@aol.com.
Please note that Show Managers are giving up their free time to schedule and manage the schooling shows. You can make their life easier by following the guidelines below:

Please send completed entries by deadline.
Entries must include all signatures & a check
No entries taken over the phone.

Thank you

NMDA Western Dressage Policy

All riders must wear a helmet at NMDA schooling shows and clinics.
The Western Dressage Association of America (WDAA) tests will be used. These tests can be found on www.USEF.org, OR www.WesternDressageAssociation.org.
The USEF (Morgan Div) or WDAA rules (they are the same) will be used. These rules describe the gaits and movements, the tack allowed and not allowed, etc.
Western riders may enter Equitation and Suitability classes.
---